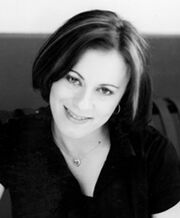 Annie Weisman
is television producer and writer who has worked on Desperate Housewives.
Career
Weisman's career in television started in 2004 working for television series Dead Like Me as a story editor and writer. Since then she had begun writing for other shows such as Heartland and Samantha Who?. In 2009, she started producing in The Cleaner and Eastwick.
Career
Anne Weisman has worked on Season 7 of Desperate Housewives as producer and writer.
Season 7
External links
Ad blocker interference detected!
Wikia is a free-to-use site that makes money from advertising. We have a modified experience for viewers using ad blockers

Wikia is not accessible if you've made further modifications. Remove the custom ad blocker rule(s) and the page will load as expected.