Bartender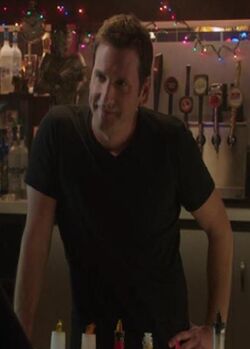 The bartender seen in the episode "Is This What You Call Love?" is an unnamed nightclub employee who interacts with alcoholic and promiscuous Bree Van de Kamp.
Story
Bree is sitting alone at the counter in her favorite bar, looking rather mopey, and the bartender approaches her and asks if she'd like to have the usual. Bree smiles at him, acknowledging that it has indeed became her "usual", and confirms. Immediately afterwards, a skeezy man named Dylan approaches and greets her, and Bree is - right away - clearly not interested. Shortly afterwards, the bartender asks Bree if she would like to start a tab, but she tells him no, as she'd like to go. She leaves the bartender a bill and walks away.
Ad blocker interference detected!
Wikia is a free-to-use site that makes money from advertising. We have a modified experience for viewers using ad blockers

Wikia is not accessible if you've made further modifications. Remove the custom ad blocker rule(s) and the page will load as expected.