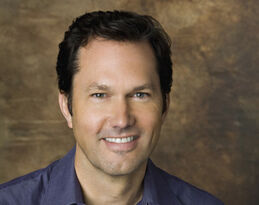 Bob Daily
is an American television producer and screenwriter, as well as the head writer of
Desperate Housewives
through its
eighth season
.
Career
Beginning as a writer for the 1990s Nickelodeon cartoon Rugrats, Daily joined the crew of the sitcom Frasier in 1999. After Frasier concluded in 2004, Daily joined fellow Frasier writers Joe Keenan and Christopher Lloyd as a co-executive producer on their short lived sitcom Out of Practice.
Desperate Housewives
In 2006 Daily, as well as Keenan, joined Desperate Housewives as a producer and writer. Following Keenan's departure from the show in 2007, Daily was promoted executive producer of the show, starting with the first episode of the fourth season.
Season Three
Season Four
Season Five
Season Six
Season Seven
External links
Ad blocker interference detected!
Wikia is a free-to-use site that makes money from advertising. We have a modified experience for viewers using ad blockers

Wikia is not accessible if you've made further modifications. Remove the custom ad blocker rule(s) and the page will load as expected.