Brent Kinsman portrays the role of the younger Preston Scavo on Desperate Housewives.
Life & Career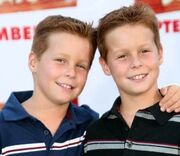 Brent Kinsman and his identical twin brother, Shane, were born on November 13, 1997 in Los Angeles, California. He and his twin often play twin brothers on screen, or, in other occasions, the same role. They are most famous for their roles as Porter and Preston on Desperate Housewives. Both have also appeared on Cheaper by the Dozen, and its sequel, Cheaper by the Dozen 2, as well as on the television series ER.
Ad blocker interference detected!
Wikia is a free-to-use site that makes money from advertising. We have a modified experience for viewers using ad blockers

Wikia is not accessible if you've made further modifications. Remove the custom ad blocker rule(s) and the page will load as expected.