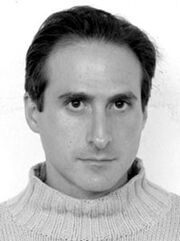 Bob Daily
is an American television producer and screenwriter.
Career
Warren has a number of Broadway production directing credits to his name, including Holiday, Summer and Smoke and Misalliance.
Desperate Housewives
Warren's only television credits to date are having directing four episodes of Desperate Housewives Desperate Housewives creator and executive producer Marc Cherry asked Warren to direct an episode of the show's third season having known him previously from the theatre. Warren and Cherry became close friends after Warren gave Cherry his first professional acting job over twenty years ago in a children's musical. Warren hopes to work both in theatre and television in the future:
"I'm very excited by this career change. But it's not permanent, because I love theatre too much."
Season Three
Season Four
Season Five
Season Six
Season Seven
External links
Ad blocker interference detected!
Wikia is a free-to-use site that makes money from advertising. We have a modified experience for viewers using ad blockers

Wikia is not accessible if you've made further modifications. Remove the custom ad blocker rule(s) and the page will load as expected.