Eleanor Mason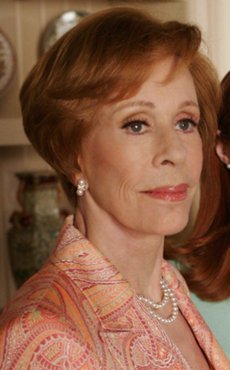 Season(s)
S1
-
S2
-
S3
-
S4
-
S5
-
S6
-
S7
-
S8
Eleanor Mason is Bree's uptight stepmother. A proper lady to whom appearances mean everything, Eleanor visits Wisteria Lane in "Don't Look at Me" to mediate between Bree and Andrew.
Story
It was revealed that she and her stepdaughter had never had a good relationship, with Bree commenting bitterly that she had to "work for every kind word" that her stepmother had ever said to her, and Eleanor coolly retorting that she had always known Bree "resented her because of her high standards". Despite the fact that she can be rather critical of Bree, making a hurtful comment about her peanut butter cookies, she does seem to have a tiny amount of sympathy for her stepdaughter, confessing that she had always admired her determination, and that she would like to be a lying, supportive mother, but it was simply not in her nature.One night Elenaor reveales to Bree she and Henry,Bree's Father would be taking Andrew back to Rhode Island this did not please Bree.Bree pulled a few stunts to sabotage this plan and it worked by revealing Andrew was a Homosexual.Eleanor and Henry later left and have not been seen since. However her relationship with Andrew and Danielle seems to be very close, they even refer to her as "Grandma" even though she is not their biological grandmother. It is unknown how she feels about Andrew after finding out he is gay.
Trivia
Carol Burnett was the closest to stunt casting the series had ever done up until that point, as every actor prior to her casting had to audition for a role in the series. However, in the same episode that featured her, Kyle MacLachlan made his debut in the role of would-be main character Orson Hodge, and he too was asked by Marc Cherry himself if he'd agree to join the cast.
Ad blocker interference detected!
Wikia is a free-to-use site that makes money from advertising. We have a modified experience for viewers using ad blockers

Wikia is not accessible if you've made further modifications. Remove the custom ad blocker rule(s) and the page will load as expected.