Fairview was founded in 1871, by Edward Sibley who was the beloved founder of the town. Prior to that, he was best known as a bootlegger, a womanizer, and a horse thief. Of course, no one remembers those parts of Edward's past. Luckily for him, history is designed to be rewritten.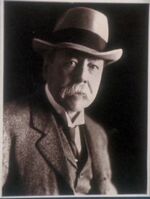 Fairview is the small city where Desperate Housewives is set.
Geographic location
The state in which Fairview resides is ambiguous. License plates on local automobiles and driving licenses refer to "Eagle State". A letter written by Susan Mayer was addressed to Edie Britt in "Fairview, USA". The zip code for Wisteria Lane in Fairview, ES is 00057 (season five). The zip for the police department is 29102 and its area code is 456 (season one). Zip codes beginning with 29 are in South Carolina. The area code 456 is meant for International Inbound Calls.
Fairview is possibly southern, as the weather is generally warm, and "it doesn't rain very often, but when it does, it pours". No cold or snowy weather has been seen. However, Fairview and the vicinity has experienced violent tornadoes. Fairview is also situated on the coastline of a major body of water (either the ocean or one of the Great Lakes), and has a marina. The surrounding area seems to be hills, woodland, ponds, nearby lakes (Rockwater Lake and Torch Lake) and within a day's driving distance of rugged, mountainous desert terrain.
In season 2, Lonny Moon tells Susan Mayer that his wife and kids are "up in Minnesota," implying Fairview and Eagle State are south of Minnesota. At the end of season one in the flashback that reveals Mary Alice Young's secret, Felicia Tilman, while in Salt Lake City, Utah, says that she has family "way out in Fairview," implying that Fairview is a major town some distance away from Utah.
Besides the tornadoes, many references imply that Fairview is located in the Midwest. In seasons 3 and 4 there are mentions of Purdue University and Notre Dame and in season 4 Mike Delfino insists his future son will be a fan of the Indianapolis Colts (even though he is from Utah), and Tom Scavo makes a reference to Peyton Manning, suggesting Fairview is located in Indiana, close to Chicago. There is also much mention of people flying in from Chicago's O'Hare airport.
New neighbors in the show such as Katherine Mayfair and Betty Applewhite have moved to Wisteria Lane from Chicago. Bob and Lee also have friends from Chicago who informed them of Katherine Mayfair's reasons for leaving the city. Local news stations have reported news from Chicago; however, a local television station bears call letters KQRY, implying that Fairview is west of the Mississippi River.
A few of the cities mentioned in the below section are named after cities in Wisconsin and Michigan. In real life there is a town of Fairview located in Illinois.
Places of Interest
| Place of interest | Details |
| --- | --- |
| Baby Land | Gabrielle Solis bought clothes for her upcoming baby here in season two. |
| Bar & Grill | Bree Van de Kamp would drink wine and listen to Italian opera here in season two. |
| Barcliff Academy | Private school that the Van de Kamp's and Scavo's children went in seasons one through four. |
| Beacon Street Pharmacy | During season one and two (and several years before the start of Desperate Housewives), George Williams was the pharmacist in Brettanion Hotel |
| Brettanion Hotel | A fancy hotel in downtown Fairview, where George Williams accidentally commits suicide by overdose in season two. |
| Camp Hennessey | Juvenile rehabilitation camp where Andrew Van de Kamp was sent during seasons one and two. |
| Chez Naomi | A local restaurant where the chocolate souffle is the specialty. Edie Britt thought Karl Mayer was going to propose to her here in season two. |
| Cliffside Cable | Cable company servicing Wisteria Lane in season one. One news channel is Global Cable News which reports updates on Melanie Foster's death in Chicago in season two. |
| Continental Overnight | A shipping company whose ad is seen in season two. |
| Corner of 9th and Foster | A bad part of town, with hookers aplenty in season one. |
| Cumberly's | Local clothes store where Gabrielle works as a personal shopper in season 8. |
| Dorset Security Company | Susan Mayer uses a sign from this company as a security deterrent in season two. |
| Drop Ship | Shipping company akin to UPS in season two. |
| The Enchanted Florist | Gabrielle Solis locks the owner in the refrigerator while trying to discover the anonymous sender of flowers to her in season three. |
| End Zone | A Hooters-type sports bar & grill where Susan & Edie have a fight with the waitresses. |
| Fairview City Hall | |
| Fairview Chamber of Commerce | |
| Fairview Construction Company | |
| Fairview Country Club | |
| Fairview County Jail | Carlos Solis spends some time here for his assaults in season two. |
| Fertility Clinic | Gabrielle Solis goes here to get her surrogate impregnated in season two. |
| Fairview Herald | A local newspaper seen in season two. |
| Fairview High School | Fairview Junior League hosts an annual benefit for them at the Brettanion Hotel in season two. Their team is the Fairview Hornets. |
| Fairview Mall | |
| Fairview Meadows Psychiatric Hospital | Bree Van de Kamp checks herself in here at the end of season two. |
| Fairview Memorial Hospital | (300 Main Road) - The major medical center in Fairview; seen in almost every season as every main character has been admitted once or twice. |
| Fairview Movers | Seen on moving van in front of the Mullins' house (soon to be Applewhite house) in season one. Their website is www.fairviewmovers.com in season two. |
| Fairview Police Department | (157 N. Main St., Fairview, ES 29102 / area code 456) - As seen on the missing person's flier for Martha Huber in season one. |
| Fairview Towers | An apartment complex that Orson Hodge moved into after Bree Hodge threw him out in the major part of season four. |
| Fairview U Move | Used by the Applewhites when leaving Wisteria Lane at the end of season two. |
| Field's Market | Site of hostage situation resulting in the deaths of Nora Huntington and Carolyn Bigsby in season three. |
| 5th Ave Beauty Salon | |
| Gable and Thompson Construction Company | Seen doing construction on Edie Britt's house on Wisteria Lane in season one. |
| Haft's Detective Agency | Jerry Shaw works here and was hired by both Paul Young and Susan Mayer to investigate other people and it also has the biggest ad in the phone book in season one. |
| Hawkin's Lake | A large lake that resides in Fairview where Ben Faulkner originally planned to construct his estate. It is home to an endangered species of frogs. |
| The Hamper Dry Cleaners | |
| Johnson Real Estate | Sold a house to George Williams in season two and the Young house to Angie Bolen in season six. |
| Linder Woodworking | Based in Mt. Pleasant, Brian Linder's woodworking company serving Eagle State towns, where Paul Young had his son's toy chest made in season one. |
| Madame Kim's Day Spa | This is where Susan Mayer got a botched bikini wax. |
| McMay's | Upscale department store that Bree Van de Kamp gets locked in after passing out in season two. The store is a clear parody of Macy's. |
| Meadowside Psychiatric Hospital | Caleb Applewhite was sent here during season two. |
| Mount Pleasant Wedding Chapel | A place for quick and cheap weddings in Mt. Pleasant in season two. |
| Mount Pleasant Gazette | A newspaper in the neighboring town, founded in 1876. |
| O'Donnell's | A dance bar/club that Lynette Scavo and her boss Nina Fletcher go to in season two. |
| Parcher & Murphy Advertisement Agency | The ad agency, where Lynette Scavo and Tom Scavo worked before opening the pizzeria during season two. |
| Price Warehouse | |
| Prudy's Feed Store | (3rd & Sutherland) - Addison Prudy, Susan Mayer's biological father, own and runs this store in season two. |
| Sacred Heart Hospital | Juanita "Mama" Solis was in a coma here until she woke up and fell down the stairs to her death in season one. |
| Siesta King | Mattress store where Gabrielle Solis modeled in season one. |
| Silvercrest Juvenile Rehabilitation Center | Zach Young was put here by Paul Young in season one. |
| Sunny Pastures Retirement Home | |
| Temptation | Strip club on the outskirts of Fairview in season two. |
| Topsey Turvy strip club | |
| Wisteria Lane | A beautiful street with beautiful upper-middle class houses; however, the street has a history of drama, mystery and secrets. |
| Zimms Advertisement Agency | Rival agency of Parcher & Murphy with no daycare and frowns on office breast-feeding in season two. |
Ad blocker interference detected!
Wikia is a free-to-use site that makes money from advertising. We have a modified experience for viewers using ad blockers

Wikia is not accessible if you've made further modifications. Remove the custom ad blocker rule(s) and the page will load as expected.