Heidi Klum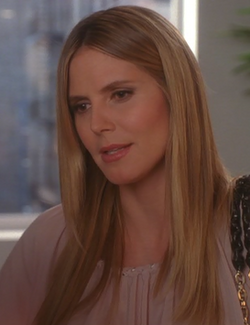 Profession
Model
Actress
Businesswoman
Television Host
Season(s)
S1
-
S2
-
S3
-
S4
-
S5
-
S6
-
S7
-
S8
Heidi Klum is a German model, businesswoman and television host who was revealed to be "friends" with Gabrielle in her modelling days.
Biography
Real-Life Biography
For more information about her life, see Heidi Klum.
Fictional Biography
She was a model colleague of Gabrielle Solis. Gabrielle played a prank on her, which resulted in her being unable to feature on the cover of Sports Illustrated.  ("Chromolume No. 7")
Ad blocker interference detected!
Wikia is a free-to-use site that makes money from advertising. We have a modified experience for viewers using ad blockers

Wikia is not accessible if you've made further modifications. Remove the custom ad blocker rule(s) and the page will load as expected.