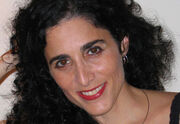 Jamie Gorenberg
is an American television producer and screenwriter who has worked on
Desperate Housewives
.
Career
She began working on the series as a producer and screenwriter in 2007 during the series' fourth season. She also worked as a writer on Related and Kristin, and a producer and writer on Good Morning, Miami, and Dharma & Greg. She is married and began speaking publicly about lung cancer following her mother's diagnosis in 2007.
Desperate Housewives
Her most prominent work is on Desperate Housewives as a producer and writer.
Season 4
Season 5
Season 6
External links
Ad blocker interference detected!
Wikia is a free-to-use site that makes money from advertising. We have a modified experience for viewers using ad blockers

Wikia is not accessible if you've made further modifications. Remove the custom ad blocker rule(s) and the page will load as expected.