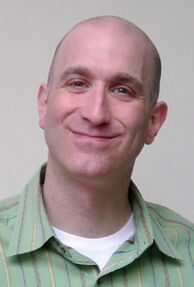 Jeff Greenstein
is an American television writer and producer.
Career
Greenstein has worked on many television series as both writer and producer to most of them. His credits include Will & Grace, Friends and Dream On.
Desperate Housewives
After leaving Will & Grace, Greenstein went on to become a producer for Desperate Housewives. He has worked on many episodes spanning across several seasons. He left during the period of Season Six to help launch NBC's Parenthood, then returned to Desperate Housewives for Season Seven working as producer, writer and director. By Season Seven he was promoted to executive producer.
Season Three
Season Four
Season Five
Season Seven
External links
Ad blocker interference detected!
Wikia is a free-to-use site that makes money from advertising. We have a modified experience for viewers using ad blockers

Wikia is not accessible if you've made further modifications. Remove the custom ad blocker rule(s) and the page will load as expected.