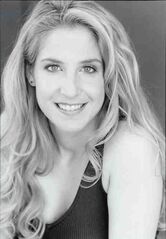 Jenna Bans
is an American screenwriter and producer who has worked on
Desperate Housewives
.
Career
Bans has been a producer for a few television series which includes Grey's Anatomy and Private Pratice as well as being writers for these shows.
Bans was originally intended to write for Jerry Bruckheimer's cancelled action series Fearless, but the show was cancelled amid many fears of the portrayal of the main character who could not feel or experience fear in any manner. After, she was signed up to become part of the production crew of Desperate Housewives. She started of only writing for Season 1 and then proceeded further to become story editor by Season 2 as well. By Season Three, she was promoted to executive story editor.
Bans has been nominated for two WGA Awards for "It Takes Two" and "Next". Two episodes which she co-wrote together with Kevin Murphy.
External links
Ad blocker interference detected!
Wikia is a free-to-use site that makes money from advertising. We have a modified experience for viewers using ad blockers

Wikia is not accessible if you've made further modifications. Remove the custom ad blocker rule(s) and the page will load as expected.