Young actress Kaili Say from Wahiawa, Hawaii was originally cast as Juanita Solis and played her in the 4th season finale. However, the role was recast for the 5th season and Madison De La Garza took over it.
Filmography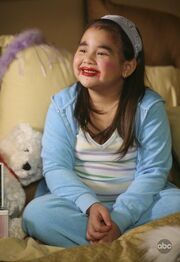 Desperate Housewives (2004)
4 Wedding Planners (2011)
Woggie (2012)
Ad blocker interference detected!
Wikia is a free-to-use site that makes money from advertising. We have a modified experience for viewers using ad blockers

Wikia is not accessible if you've made further modifications. Remove the custom ad blocker rule(s) and the page will load as expected.