Karen McCluskey
is one of the supporting protagonists of
Desperate Housewives
, and thus her family is central to the series and its stories.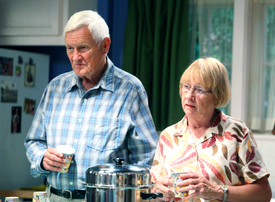 Family members
Karen's family is one of the central families on Desperate Housewives. They reside at 4358 Wisteria Lane (Karen also lived in 4347 Wisteria Lane for a short period of time, while her house being rebuilt after the tornado).
Immediate family
Extended family
Roberta Simonds - Karen's younger sister, a free spirit with whom she engaged in adventures, hoping to defeat bad guys, just like their mom used to.
Gayle - Karen's other sister, who said she and Gilbert wouldn't last together.
Gilbert's brother - Karen's brother-in-law, with whom Gilbert thought she was cheating on him.
Miriam Bender - Roy's first wife, she deceased before their 40th Wedding Anniversary, because of a brain cancer.
Gilbert's Ex-Wife - Gilberts ex-wife before Karen who he was married to for two years. He forgot to change his will and she got everything when he died.
Scotty - Roy's deaf grandson, who was given a dinosaur bought from the Delfinos, one they wanted back after a while.
Note: Lynette's family intertwines with Karen's.
Karen's family
Immediate Family
Extended Family
Ad blocker interference detected!
Wikia is a free-to-use site that makes money from advertising. We have a modified experience for viewers using ad blockers

Wikia is not accessible if you've made further modifications. Remove the custom ad blocker rule(s) and the page will load as expected.