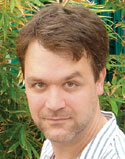 Kevin Murphy
is an American screenwriter, television producer, lyricist and composer. It should also be noted that Kevin Murphy should not be confused with the actors and musicians of the same name.
Career
Murphy's television career began as a writer for the family sitcom Big Brother Jake. After, he had begun to write for animations such as The Adventures of Sonic the Hedgehog and Sabrina: The Animated Series. Then his worked branched into sci-fi, action, romantic comedy-dramas and family drama series.
Aside from this, has worked and composed music for Broadway shows such as Legally Blonde: The Musical.
Desperate Houswives
From Desperate Housewives premiere in 2004 to 2007, he worked as head writer and co-executive producer for the hit comedy-drama Desperate Housewives.
Desperate Housewives was nominated for an Emmy Award shared amongst the production team in 2005, when Murphy was its head writer.
He was also nominated for two WGA Awards shared with Jenna Bans for co-writing episodes It Takes Two and Next.
Season 1
Season 2
Season 3
External links
Ad blocker interference detected!
Wikia is a free-to-use site that makes money from advertising. We have a modified experience for viewers using ad blockers

Wikia is not accessible if you've made further modifications. Remove the custom ad blocker rule(s) and the page will load as expected.