Lila Dash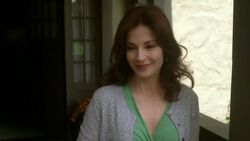 Manner of death
March 7, 2011
Profession
Elementary School Teacher
Season(s)
S1
-
S2
-
S3
-
S4
-
S5
-
S6
-
S7
-
S8
Lila Dash was Dave Williams's wife and mother to his daughter Paige Dash.
Lila married Dave Dash five years after she majored in early childhood development from Eagle State University. She had previously attended Mount Pleasant High School.
Lila and Paige both die in a car crash involving Susan and Mike Delfino when Lila brings Paige out for some ice-cream. Dave later devises a plan to seek revenge on Mike and Susan before ending up in a mental institution. Lila and Paige appear to Dave many times as hallucinations.
Ad blocker interference detected!
Wikia is a free-to-use site that makes money from advertising. We have a modified experience for viewers using ad blockers

Wikia is not accessible if you've made further modifications. Remove the custom ad blocker rule(s) and the page will load as expected.