Mary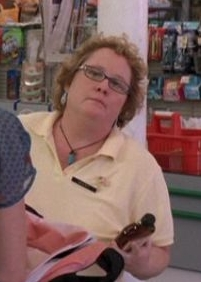 Season(s)
S1
-
S2
-
S3
-
S4
-
S5
-
S6
-
S7
-
S8
Mary worked at the supermarket where Carolyn Bigsby held a group of people hostage.
Story
As Julie is paying for her items at the supermarket, she collects her wallet from her backpack, and as she does a bottle of alcohol drops out. Julie is shocked and Austin is annoyed. The cashier calls over to Harvey, who's on the phone to his wife to tell him about the shop lifters.
She is later held hostage among a group of other people by Carolyn Bigsby. ("Bang")
Ad blocker interference detected!
Wikia is a free-to-use site that makes money from advertising. We have a modified experience for viewers using ad blockers

Wikia is not accessible if you've made further modifications. Remove the custom ad blocker rule(s) and the page will load as expected.