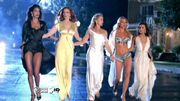 Mile in These Shoes is a song written by Jennifer Lopez, that was used in the Promo for Season 4.
Season 4 Promo
The promo begins with a mysterious black car that drives down Wisteria Lane.The Scene goes to Edie Britt committing suicide. Bree is then shown placing a blanket on the Crib that holds danielles baby. Then Susan is shown lying on a bed stretching. Lynette is shown removing one of her wigs during her cancer period, and Gabby is then shown at her vanity adjusting her necklace for which she rips off, and the scene moves to the women waling down the lane, Thunder strikes and they all glance back. The black car makes another appearance.
Ad blocker interference detected!
Wikia is a free-to-use site that makes money from advertising. We have a modified experience for viewers using ad blockers

Wikia is not accessible if you've made further modifications. Remove the custom ad blocker rule(s) and the page will load as expected.