Minister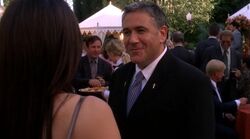 Profession
Presbyterian Minister
The Minister is a local Presbyterian religious official who wed both Gabrielle Marquez and Victor Lang, as well as Susan Mayer and Mike Delfino (twice).
Biography
This minister married Gabrielle Marquez and Victor Lang. During the wedding reception, Susan asks the minister if he has any plans for that night, to which he replies no. Later that evening, he marries Susan Mayer and MIke Delfino in the woods.
Ad blocker interference detected!
Wikia is a free-to-use site that makes money from advertising. We have a modified experience for viewers using ad blockers

Wikia is not accessible if you've made further modifications. Remove the custom ad blocker rule(s) and the page will load as expected.