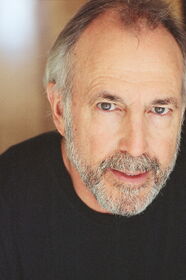 Peter Lefcourt
is an American television producer, a film and television screenwriter, and a novelist.
Career
Lefcourt's started with teleplays at the early stages of his television career which included Cagney and Lace and Scarecrow and Mrs. King. He has since then gone on to write and produce many television series and movies.
Lefcourt has also written novels that are based on real-life experiences living amongst the midst of Hollywood.
Desperate Housewives
Lefcourt has written one episode for Season 6 and produced a number of episodes as well. Lefcourt is one of the few people to know where all the dead bodies of Wisteria Lane are buried, but will not reveal to anyone where.
Season 6
External links
Ad blocker interference detected!
Wikia is a free-to-use site that makes money from advertising. We have a modified experience for viewers using ad blockers

Wikia is not accessible if you've made further modifications. Remove the custom ad blocker rule(s) and the page will load as expected.