Pregnant Woman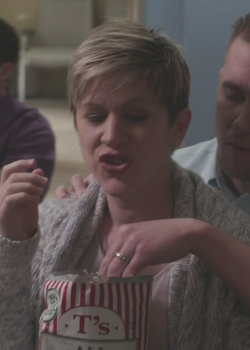 Family members
Unnamed Husband
Unborn Child
Season(s)
S1
-
S2
-
S3
-
S4
-
S5
-
S6
-
S7
-
S8
Take a chip, lose a hand.
This Pregnant Woman is someone who attended the Fairview Childbirth Center when pregnant with her child.
Story
At the Fairview Childbirth Center, Julie is sat with Susan, and they're surrounded by other pregnant women with their partners. One woman is sat eating potato chips, whilst her husband massages her back. When he reaches to eat a potato chip, she warns him not to or he'll "lose a hand". ("The People Will Hear")
Ad blocker interference detected!
Wikia is a free-to-use site that makes money from advertising. We have a modified experience for viewers using ad blockers

Wikia is not accessible if you've made further modifications. Remove the custom ad blocker rule(s) and the page will load as expected.