Ralph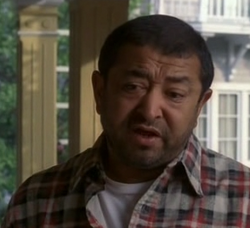 Also known as
Ralph the Gardener
Manner of death
Hit by Bus
Family members
Bonita - Ex-Wife
Season(s)
S1
-
S2
-
S3
-
S4
-
S5
-
S6
-
S7
-
S8
Ralph is a Latin middle-aged man who worked briefly as the Solis family's gardener.
Story
Season 2 After John Rowland and presumably Justin were fired, they were replaced with Ralph and another gardener, Luis. Ralph's penchant for pornographic photos and videos causes his wife to leave him. It also causes Ralph to stumble upon a compromising photo of Gaby on a website created by one of her ex-boyfriend. After Carlos paid Ralph to take his place picking up trash on the freeway as part of community service and he was hit by a bus.
Ad blocker interference detected!
Wikia is a free-to-use site that makes money from advertising. We have a modified experience for viewers using ad blockers

Wikia is not accessible if you've made further modifications. Remove the custom ad blocker rule(s) and the page will load as expected.