Roy Bender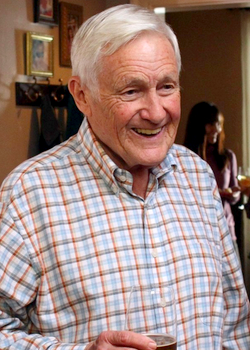 Profession
Handyman
Steak Salesman
The first time Karen McCluskey saw Roy Bender she did something she didn't expect to do; she smiled. The next time they met, Roy did something he didn't expect to do; he smiled back. After a week of sly flirtations, Karen and Roy did something no one expected them to do... and they did it twice.

Mary Alice Young
Roy Bender is Karen McCluskey's husband.
Biography
Early Life
Whilst in the army, Roy was stationed in Korea with a man named John Dansac. Whilst patrolling, Roy felt something whiz past his ear so he turned around to investigate and he saw John lying on the floor dead from a gun shot. Roy then went to ask his sergeant why it was John that died and not him; the sergeant replied "Why ask?".
Together they discover Julie Mayer after she was strangled. He and Karen later confess that they are in love with each other. Lynette later hires Roy as a handyman, at Karen's request. It is where Roy is revealed to be a little old fashioned when it comes to women and doesn't like that Lynette bosses Tom around and goes behind her back to get his approval on things. He and the Scavos later come to an understanding. He is present with Karen when the plane crashes on Wisteria Lane, both he and Karen manage to get out of harms way in time. He is also hired by Bree to watch Orson when she fears he will commit suicide. However instead of watching Orson, Roy leaves him in the laundry room, puts a broom through Orson's wheelchair spokes and goes to sleep.
Roy goes to Bree's house, with Karen, for a Thanksgiving meal.
This article or section is under construction


Expect many and frequent revisions to this content.
Roy spends time at Gaby's house after Karen kicks him out. Gaby keeps him around to make sure the girls stay in line while Carlos is in rehab.
After Gaby tells Roy about Karen's cancer, the two reconcile and Roy promises Karen that he will stay with her "for better and for worse." Explaining that they had the better and now, the worse.
Gallery
Gallery of photographic stills released to promote the episode.