Guard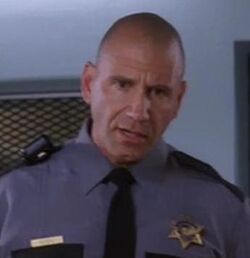 House
Fairview County Jail
The guard seen in the episode "You'll Never Get Away From Me" is an unnamed police officer that interacts with Carlos and Gabrielle Solis.
Story
On their anniversary, Gabrielle visits her husband Carlos in jail. They have a fight and the guard is forced to approach them and intervene, asking if there's a problem there. Gaby says to the guard: "No. It's our anniversary. We're just reliving the good times." ("You'll Never Get Away From Me")
Ad blocker interference detected!
Wikia is a free-to-use site that makes money from advertising. We have a modified experience for viewers using ad blockers

Wikia is not accessible if you've made further modifications. Remove the custom ad blocker rule(s) and the page will load as expected.