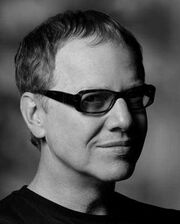 Steve Bartek
is a music composer.
Career
Bartek has composed music for television series like Nightmare Ned and Steven Spielberg's Amazing Stories, and movies like An Extremely Goofy Movie, and Novacaine
Desperate Housewives
Bartek has worked on a few pieces for Desperate Housewives.
In 2005, Bartek along with Danny Elfman, Stewart Copeland and Steve Jablonsky picked up an BMI Film & TV Award for their work on Desperate Housewives.
Season 1
External links
Ad blocker interference detected!
Wikia is a free-to-use site that makes money from advertising. We have a modified experience for viewers using ad blockers

Wikia is not accessible if you've made further modifications. Remove the custom ad blocker rule(s) and the page will load as expected.