Tammy Sinclair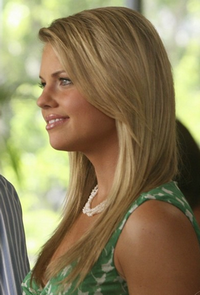 Also known as
Tammy Rowland
Tammy Sinclair (Previously Rowland) was John's rich yet naive and unknowing wife. Her father owns an expensive hotel.
Biography
It is revealed John didn't love Tammy as he tried to spark up another affair with Gabrielle. When Gabrielle was with John in one of the hotel bedrooms having an affair, Tammy interrupted them causing Gabrielle to hide in a suitcase. Tammy Later gets pregnant by John.
In Season Six, it is revealed that the two got a divorce.
Ad blocker interference detected!
Wikia is a free-to-use site that makes money from advertising. We have a modified experience for viewers using ad blockers

Wikia is not accessible if you've made further modifications. Remove the custom ad blocker rule(s) and the page will load as expected.