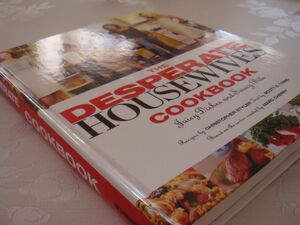 The Desperate Housewives Cookbook: Juicy Dishes and Saucy Bits
Recipes by Christopher Styler
Text by Scott S. Tobis
ISBN 9781401302771; ISBN10: 1401302777; Format: Hardback; Trimsize: 257 x 208 x 24 mm; Pages: 288
About the book
Tune in to ABCs monster hit Desperate Housewives on any given Sunday night, and you'll salivate over everything from Brees ber-gourmet repasts to Susans whats-a-spatula simple suppers. They may have wildly different personalities and story lines, but if there's one thing the four heroines have in common, its food. In The Desperate Housewives Cookbook, the shows millions of fans will find recipes for all the foods made famous by the show, as well as many others inspired by each housewife. For example:
Ad blocker interference detected!
Wikia is a free-to-use site that makes money from advertising. We have a modified experience for viewers using ad blockers

Wikia is not accessible if you've made further modifications. Remove the custom ad blocker rule(s) and the page will load as expected.