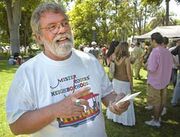 Tom Cherones
is an American director and producer.
Career
Cherones began as a television director on My Sister Sam in the 1980s. In the 1990s, he became noted for directing Seinfeld and NewsRadio.
Desperate Housewives
Cherones has directed an episode for Desperate Housewives in Season Two.
Season Two
External links
Ad blocker interference detected!
Wikia is a free-to-use site that makes money from advertising. We have a modified experience for viewers using ad blockers

Wikia is not accessible if you've made further modifications. Remove the custom ad blocker rule(s) and the page will load as expected.