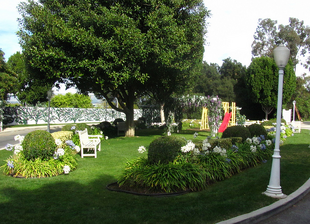 Wisteria Park
is a small park situated on the Cul-de-sac of
Wisteria Lane
. The park is shown as a popular venue, hosting number of different events including The Fairview garden Club meetings, children's birthday parties, and the Wisteria Lane Annual Christmas Party.
It is the main setting for the Season 6, episode "Boom Crunch" in which a light plane crash lands onto the lane.
Ad blocker interference detected!
Wikia is a free-to-use site that makes money from advertising. We have a modified experience for viewers using ad blockers

Wikia is not accessible if you've made further modifications. Remove the custom ad blocker rule(s) and the page will load as expected.